Armadyl,
Kree'arra (level 580)
---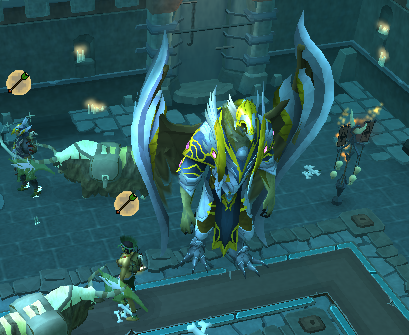 Main boss prayer style:
Range prayer protection.
Spamming the thread with duplicate posts serves no useful purpose, is unfair on other players, and is likely to result in the removal of your posting privileges.
The needed Kill count: 40.
Followers:
(Magic) - Wingman Skree (level 143)
(Melee) - Flight Kilisa (level 159)
(Range) - Flockleader Geerin (level 149)
Best range team crossbows
● Chaotic crossbow
● Armadyl crossbow
Crossbow bolts Options.
● Diamond bolts (e)
● Ruby bolts (e)
Armadyl thread guide:
New
click here
on Godwars dungeon information.
To make it really clear exactly what you're looking for we advice that you post using one of the following
templates
, and if you've change your mind here is a quick link list below for the other commanders:
Armadyl Team
Bandos Team
Saradomin
Zamorak Team
Nex
---
Looking for a Team Member:
Date and Time:
Location and World:
Preferred Combat Type:
Additional Requirements/Information:
---
Or
---
Looking for a "Armadyl" Team:
Date and Time:
Location and World:
My range level is:My combat level is:Additional Requirements/Information:
---