Membership required
Game Requirements
There are no requirements to enter a Fish Flingers competition
, so long as you have a competition entry ticket..
Trimmed completionist cape
Acquiring a champion's tackle box is a requirement for the trimmed completionist cape.
Heading over to Isla Anglerine for a fish-flinging foray into competitive angling has never been easier, more rewarding or more fun with the release of our Fish Flingers improvements. As well as being easier to access, XP gain is upped for those who make the most of their bait and tackle strategy, and there are succulent fillets of XP for those cooperating with other players to reel in really big fish.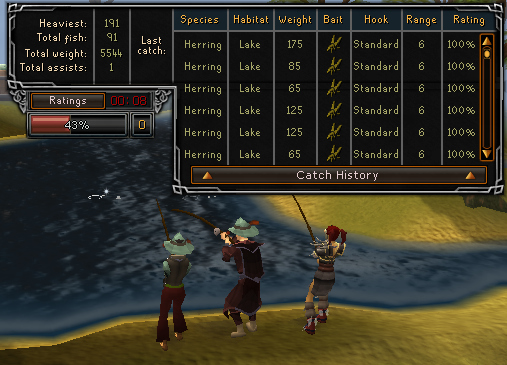 Gameplay
If you reach a 100% rating, you'll have a chance to hook a big fish. When this happens, you and all other players nearby will be notified. You won't be able to pull it in on your own, so be sure to ask for help – the XP and point rewards for reeling in one of these beauties will be more than worth it for all involved.
Collecting tickets to play Fish Flingers.
Speak to any one of the fishermen each day to receive 2 tickets.
Competitions occur every 20 minutes,
As long as you have an entry ticket remaining – you can wait in the Fish Flingers starting area after a competition for the next one to begin.
1. A countdown timer, displaying the time remaining in the current competition.
2. Hints can now be obtained by right-clicking on the fisherman, giving you fast fishing advice on the fly.

How to get to the fish flingers teleports.
The fishermen who teleport you to the competition are now permanently present, rather than appearing when a tournament is active. They're also marked by a D&D icon, as well as a new, distinctive look, so they're easy to spot. They can be found at the following locations:
• Inside the Fishing Guild
• Catherby beach
• Shilo Village
• Piscatoris
• Barbarian Village
• North-west of Lumbridge
• South-east of Lumbridge Swamp
• South-west of Draynor Village
• Burthorpe (when tutorial mode is inactive)
• At the docks south of Burgh de Rott
Map of Isla Anglerine.
Tracking Your Catches
Once the competition begins, you'll notice an interface appearing at the top of the game window, which is used to track information about the fish you catch. On the far left, your overall progress is covered by the weight of the heaviest fish you've caught so far, and how many fish you've caught and what they weigh in total. Specific information about your last catch is shown to the right of that, showing what species it was, where it was caught, how much it weighed, then the bait, hook and casting range you used. Finally, the 'Rating' column gives you an idea of how suitable the tackle you used was in that habitat. As you try different baits, hooks and weights, you'll see this number increase as you get more components correct, with the aim of getting your rating up to 100%. Clicking 'Show All' will expand this information to your last six catches.
Click on ratings, what you see below.

Bait.
There are eight different types of bait, with each bait sharing a common property with two other types of bait (be that colour or shape). If you find that, say, using worms increases your rating a bit, you should next try either shrimp or maggots to see if either of those increase your rating further. How each bait type compares to the others is as follows:

Hooks
There are six different types of hook, which work in a similar way to bait. At each habitat, one of the six hooks will give you the best rating increase, but a similar hook will still improve your rating slightly. The hooks compare as follows:
Weights
Weights work a little bit differently from bait and hooks. They come in three sizes - small (1kg), medium (2kg) and large (5kg) - and you can attach up to five weights to your line (in any combination) to extend your casting range. The heavier your line, the further you can cast, giving you a range between 1-7 metres. You'll find that one range will improve your rating a little, but the optimal range will improve your rating by more.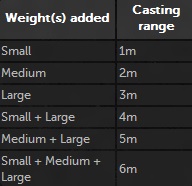 Big Fish
When you reach 100% rating, and there are other players nearby, you will have a chance of catching a Big fish. Maintain your 100% rating and you'll eventually catch one (you can re-cast, drop your line or move away to discard the fish if you want) but you won't be able to land it alone!
Up to 8 players can click on the bubbles that appear around your bait, speeding up the landing process, and all who contribute will receive points - even if the fish is discarded.
You can catch 3 Big fish and assist 6 times per competition.

Ranking System
And the winner is... When your ten minutes of floundering are over, you and the other entrants will be returned to the waiting area and your scores totted up. The top five scoring players will also find themselves on the winners' podium, where they can give a cheer or take a bow. Your score is derived from the total weight of all the fish you caught, how many you caught, how many fish you found the perfect tackle for, and how many medals and awards you earned.
The reward shop is now accessible via any of the fishermen.
Awards, however, are only handed out to the best of the best in any given competition, though if more than one entrant obtains an equal total they will each receive the award:
The 'Competition Results!' interface also has a second tab called 'Details', which gives you information on all six fish species from the recently ended competition. This is mostly for the curious, as this information will not be of use in the next competition. This tab also details your personal best scores and your Fish Flingers career total to date.
Medal information.
Junior angler: find the perfect tackle for three species.
Master angler: find the perfect tackle for all six species.
Efficient fisher: Achieve an average rating of at lest 80%
Heavy catch: At least 80% of fish caught were the heaviest species.

There are some flippin' fantastic new rewards from the shop too, including a 4-piece fishing outfit that'll give up to 2.5% more XP when worn:


All versions of the tackle box earned as a reward now have new features. They hold a stack of raw fish (growing in size as the box is upgraded), karambwan vessels, crayfish cages, living minerals, and your fishing outfit. Through their 'competition history' function, they also display your current number of Fish Flingers tickets, and state when you will be able to claim more.
Glitch on update. 6/6/2012