---
Location:
Draynor Village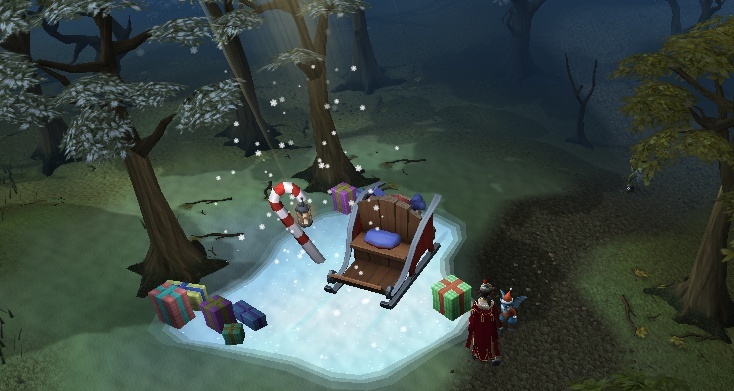 Chat Log:
Dog locations:
They won't be too far from the lodestones
| | | |
| --- | --- | --- |
| | Al Kharid Bazaar | Dalmatian |
| | Draynor Village guarding the old jail | Dobermann |
| | Falador outside Castle | Labrador skulkin' |
| | Varrock's slums | Mongrel |
You put the reindeer band on the dog's head and it flies off to Freddie Claus.
You've found all four dogs! Return to Freddie Claus near the Draynor loadestone.
There is magic in the air oh look over there magic, magic , MAGIC , in the air!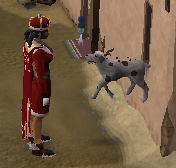 Chat Log:
Use a Bucket of water on all four of the dogs.
Let's get those fleas!
Time for a clean!
You give the dog a quick bath!
Flea Chat Log:
Gaining a friend: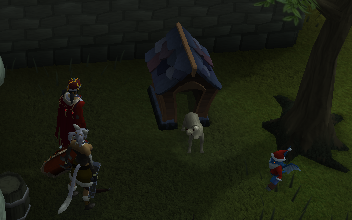 Freddie Claus: Nice kennel there, bud! Your pet poochie is lovin' that! Who's a good human? Here girl, I've got a prezzie for ya!
Job's a good'un! You gave that doggie a new 'ome and everything! I think you're deservin' of a prezzie too... I'm making you an honour'ry Santa - you can 'ave an 100% official, gen-u-ine Santa beard! It'll look great on ya - especially if you 'ave uvver Santa stuff to go wiv it! Mind you, this one's tickling me chin somefing chronic, so you might not want to keep it on too long.

Hold up, bud. I was thinking ya deserve more'n just a fake Santa beard... And seeing as 'ow good you've been this year, you deserve a proper present! Drum roll! Ooh...'ang on a sec...
Freddie Claus BURFS

Freddie Claus & Your Chat Log: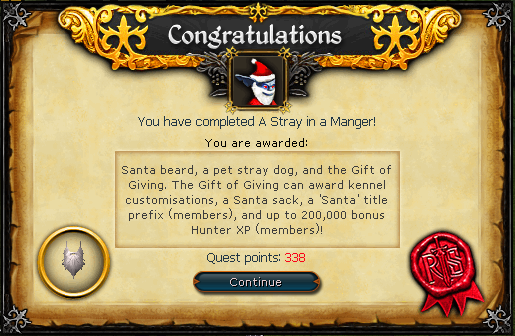 Unwrapping the Gift of giving deactivates it. Trade your with another player's to reactivate it!
For Giving your pet stray a kennel, bowl, chew tory, flea circus and mat, you earn the 'Santa' title!