About This Thread:
☻
Please Note:
Thread will have a task list limit of 20 adjustment actions posted below.
☻ (Reason for EDIT) Some community comments have been added into the body below to offer better feedback when reading over large content it to save time.
☻ (Reason for EDIT) Thread titles have been adjusted.
I welcome all comments over this topic & if you feel anything is wrong please let me know in your posting(s).
Name: Fivekills
► 1 ReactOS Design Talk ♪♪♪
☻ Build: ReactOS-0.3.16-REL-iso
☻ Thread Last Updated: 4/25/2014
☻ (Thread Status): COMPLUTED
☻ [Task total left] = 0
Thread Linking:
► 1 ReactOS Design Talk ♪♪♪" : Your On
► 2 ReactOS Design Talk ♪♪♪" : http://www.reactos.org/forum/viewtopic.php?f=25&t=13259&p=108295#p108295
► 3 ReactOS Design Talk ♪♪♪" : http://www.reactos.org/forum/viewtopic.php?f=25&t=13269&p=108422#p108422
► Website ReactOS Design Talk ♪♪♪ : http://www.reactos.org/forum/viewtopic.php?f=18&t=13250
INTRO:
Please note
: To everyone reading thread. Thank you, for taken the time out of your busy day to read from- Fivekills.

Look & feel is a big part of the reason people have change OS's & support the people building with growing the OS builders community outwards, (DO NOT MISSUNDESTAND and think I'm saying they are not doing a good job on ReactOS), Now with so much going on with the ReactOS & nothing really being done on getting around to smooth out in a Basic_End_User_Way. This starts to be a problem & have people not come back to the OS for years to come could be a problem in it self. ► (Meaning people that might of supported the OS in the beta, have dropped off the could of Support list). This makes doing improvements come to builds lower & not as faster with giving more whole limited community support. This would also bring in more builders wanting to work on the ReactOS, other than working on there own projects for themselves that is working on C++ etc like Unix/Linux project code that never gets shared with the whole community at large... Even though its still in beta does not mean it can't have better floor plans or support plans built into the root of the OS planning stages. What I would like to see happen in the coming build days.
☻
WindowsXP fanboys
Lets STOP TRYING TO MAKE ReactOS the same as Windows XP & if you wish to play in the XP world a theme editor should be made for all windows themes up to Windows metro. (Lets STOP the best OS fight and make a editor for all windows editions people just for the ReactOS)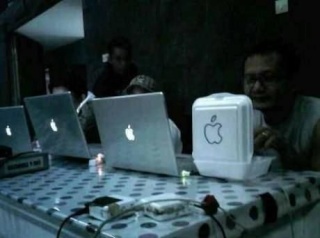 Late Apple OS safety patches make me do this...
WEBSITE suggestions:
Quote :

Website topics have been moved to new location on the ReactOS Website forum. Click the website page link to view: http://www.reactos.org/forum/viewtopic.php?f=18&t=13250
ReactOS new suggestions:
Quote :

Desktop Category lock
1. Everyone knows when there desktop gets moved around & they don't like & have to re-organize, by right clicking on view there should be a category lock box that can be turned off & on. Once its turned on you can right click on your desktop icons & lock them into place so they do not move. Now by doing this will open a new option when right clicking on your icons that will only appear once the category lock is turned on!
SYSTEM BOOTUP:
Quote :

Boot-loader
2. Please add a Advance dial-log option by hitting F8 or whatever you pick on the boot-loader this way non-builders will not see this area without hitting the advanced option key. (Not a big thing but it would make the OS Boot-loader look more clean) in my opinion.

When Booting up ReactOS
3. Change Reacts loading screen bar color from white to a darker color & also add Animation https://www.youtube.com/watch?v=ZWlrz1eEIYs&feature=youtu.be ReactOSLogo by Whitequill Riclo
APPLICATION CENTER:
Quote :

Software Updater
4. As you might know the ReactOS is limited & can't allows use up to date software. So we could Allow a software updater to have Scan rights to the ReactOS Applications Manager this could help maintain our operation system & help keep it stable.

ReactOS Applications Manager
5. When looking over the Available for installation list, there is allot of old software that should be moved over to its own table. Example: Categories "Office", "Drivers" and "Development" etc.. There should be category called "Old versions. Maybe give the OS application manager a point arrow that will expend and show the old software versions on a drop list. (Hopefully that is clear enough).

Basic image example that can be tweaked below:


---------------------------------------------------------------------
Milon: About the richedit bugs: Look at JIRA and search for 'richedit'. There's a bunch of bugs just dealing with the ReactOS richedit control. I'm positive it's not a VirtualBox problem since I run WinXP in VirtualBox at my work, and I've had no trouble with richedit controls there. That means it's a ROS bug.
\/ --------------------BELOW-----------------------------------\/

ReactOS Applications Manager
6. The recommended links are not click-able in the manager, as you see in the image above. Please make the website to go to links click-able. Black-Fox said it could be do to a ReactOS richedit bug.

ReactOs Internet explore
7. This topic has been completed & can not be done!

When installing the ReactOS you will notice no internet explore. Add (Wine Internet Explorer) shortcut to the desktop. Z98 Said: Wine since we get it from Wine. Question: Z98 is there anyway around doing this for (Example:) the Microsoft Skype product gives a installer icon on the desktop on a new pre-installed computer is there anyway of adding a Wine system like that to the ReactOS? Other than having it auto detect on install for you. This way the product is not installed until you wish it to be or you can remove the icon & never install just like the pre-installed OEM computer SYSTEMs. I think that might be a better way of doing this, since Wine is set to your default to download once the ReachOS has been detected & installed & auto actives offers the user a software notice. when the system has network hooked-up... This way even hitting next click box, the pop-up will notice and active the icon download linking to be auto removed & replace with a active one that opens the app... I might be thinking over my head! Since Wine updates their platform so often...



Black_Fox wrote:

WINE libraries cannot be "installed" on ReactOS, they are a part of ReactOS source code, added by developers. The thing that can be installed in the end of the GUI wizard is only WINE browser support.
ReactOS DESIGN PROBLEMS:
Quote :

OS Search Interaction
8. Have you ever notice when trying to backspace etc.. inside the system it does not responded back to you with mouse clicks? This might be due from the Operating System losing the folder & address locations. - (AKA System tray information could be improved on). This does not work in my Oracle VM VirtualBox V4.3.10

Desktop Refresh edit type actions like deleting
9. Once you delete a item or items once the act-ion is completed the screen should refresh for you. This way we don't see the old deleted data that has been left over because the OS did not refresh the screen to show the action take place on it's own acored.

Folder Active Linking
10. In many areas in the OS it does not show active icons that meaning my example. Right click (View) there is no dot showing what size is picked & active & Adding no to this - there is no medium desktop view.

ReactOS Explore
11. (A) Add the ReactOS main OS tools into Administrative tools that is under the start menu.
(B) Remove when right clicking on task menu bar "About explore..." as the extra box does not need to be there!

Compressed zipped folder
12. Please add a compression zip into where we right click & make new folders.

Screen size recommended
13. Please make a recommended screen resolution & make the default color setting auto True Color (32 bit) when installing the OS for the first time. - (Community Question): Could this be a VM VitrualBox issue on having the default auto set itself to 16 bit?

Virtual Memory
14. (A) There is [NO] active information in Virtual Memory.
(B) There is [NO] Active Automatically manage paging file size for all drives.

Black_FOX said: [NO] active information in Virtual Memory. This information has recently been added into daily builds (http://prntscr.com/3cdra5



Volume Control Sound
15. The ReactOS system does not recognize if NO speakers are plugged in the computer & does not X out the speaker icon!. Also since your at it system icons Example: Volume Control etc.. Could be updated to look better in the OS & make it feel more like whoever is working on it cares about there project more!

Choose Explorer windows mode
16. SDI (Single Document Interface) - This option does not work & when you try to open my computer the whole box will turn white & you will have to put MDI (Multiple Document Interface) Back on for you to engage in the operating system once again once you close the area you where in of course. (This might be My VM VirtualBox Problem!)

Display Limits
17. When opening apps like the "Properties for Display" , "My Computer" etc... sometimes they wall hide under the menu toolbar when opening at times, this should not happen & needs to be fixed unless the user has moved the app into that possession themselves. At this time anytime you open up any kind of app it will randomly open up on the desktop display with no set placements. - Maybe have a save app placements on desktop until system has restarted for all system apps... When doing so apps still should open up in set placements other than turning random... (This also can be a problem when you put apps into full screen).



System tools
18. ReactOS built in system tools tab for later use. Even though it might not be used right away, it still can have a message saying this area will be used later on.



Folder Options:
19. Control panel > Folder Options > View tab... There is nothing inside the "Advanced settings:" folder option pick box to even do anything with it. This should be addressed... along side that being said. The click action boxes for example like "Advanced" or "Restore" does not even bring out a pop-up box when clicked on, saying at lest do you wish to (Reset all options to default). no pop-up box... in other words its just placed in the system with no real backing placed on it, other than to have it feel little more like windows 3.1...

Double Boxed
20. Remove the double boxing, as its overly annoying to ME!... That's my opinion now If it bugs anyone else. Please let the developers know in this thread also!. That way the developers might fix it faster for us! As it drives me Bananas. As there is no option to changed it from happening inside ReactOS design sage.