Shattered Heart
Between a rock and a hard place.
---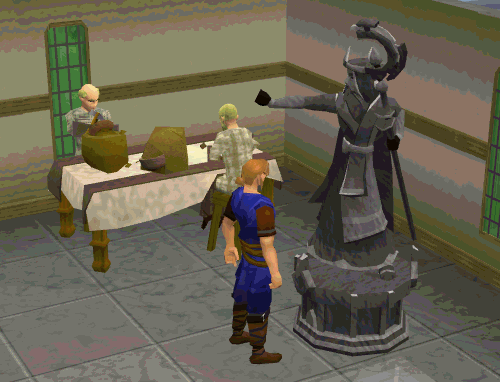 Dahmaroc statue
The Dahmaroc statue is built on the Statue plinth located in the Varrock Museum. Dahmaroc was a mage who lived during the Second Age. He was cursed in a battle fighting over the limited supply of runes in Gielinor at that time. The plinth upon which this statue is built was originally intended for a statue of Saradomin. However, the archaeological team later decides that the Dahmaroc statue is important enough to take the spot.
The statue is built out of strange rocks that the player finds while training various non-combat skills. Completing the statue requires a pair of these rocks from each skill. Talk to a researcher in the Varrock Museum, and he will give you a Statue list. It tells you all of the pairs you have and have not added. The order that the strange rock pairs are added does not matter. You will get experience for every pair of strange rocks you add from one skill. Once built, the statue appears to come to life briefly and then breaks apart shortly afterward. Adding a pair of strange rocks will change the description which appears when the statue is examined.


0 pairs added: An empty plinth for a statue.
1-2 pairs added: A few bits.
3-8 pairs added: A statue starting to take shape.
9-11 pairs added: A partially completed statue.

The first time you complete the statue you are given a plinth for your Player Owned House's Study, and you are awarded 10 Kudos. Completing the Dahmaroc statue in your player-owned house is one of the requirements needed to get a trimmed Completionist cape.
The Strange rock is an item from the Shattered Heart Distraction and Diversion. It may be found randomly while training any non-combat skill. Players may get two strange rocks per skill. When you have received the first rock for a skill, the drop chance for the second will be reduced by half. Each strange rock is a segment of the statue of Dahmaroc, a wizard from the Second Age. After the statue of Dahmaroc has been completed, players may then again get two strange rocks per non-combat skill to once again complete the statue. The first time you complete the statue, you are given a statue plinth to place in your player-owned house. This D&D is unique in that it can be finished.
If you try to add the strange rock to the plinth for the very first time, Barnabus Hurma will stop you. Speak to him and you will show him the strange rock you have found; he will then say that you need to find its twin before you can add it to the plinth. With the update on 19 August 2010, Barnabus Hurma will give you a statue collection bag to store your strange rocks thus freeing up space in your bank or inventory. Strange rocks do not stack in the bank, even if they are paired.
Strange rocks are automatically kept upon death unless you are in the Wilderness.
When you are doing any skill and you receive the rock while your inventory is full, its message would be: "Something odd happens to the [X] and you are left with a strange rock." While [X] would be the item that was last made or obtained.
(Recent update puts construction strange rocks in your inventory when you train your construction skill.) Example- building in hotspots, or making flatpacks.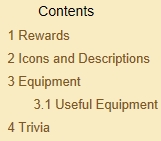 Rewards
After using a pair of strange rocks on the Statue plinth, the player gets y = x2 − 2x + 100 where y = Experience earned and x = Skill level of the skill being trained when the rock is added to the statue.
For example, using a level of 50: Exp = 50*50 - (2*50) + 100 = 2500 experience. For level 99, it is 9703 exp. See Experience reward formula section for calculator and table.
The player needs two rocks from each skill to complete the statue. When the player has collected two pieces in one skill, they can be added to the plinth in order to create a section of the Dahmaroc statue. The plinth is located in the Varrock Museum right next to the entrance. Once you complete the statue you get a replica plinth (this is where you will be building your statue) to put in your POH and then you get a replica 'piece of statue' to start building the new statue in your POH. You can then begin to search and collect pieces again which gives you a shot at the extra experience once again.
You can use a Statue list to keep track which rocks you've added to the statue. You need to have two pieces to be able to add to the plinth.
Icons and Descriptions
You can identify what skill a strange rock is by examining it. Also, the different skills' rocks have different appearances. When trying to collect a strange rock by doing any of these, you will hear a small "thud" sound to say you now have a strange rock.
Equipment
Some equipment will be required to collect strange rocks. The equipment needed will be ones you need to train a certain skill. Some examples are a pickaxe for Mining and a hatchet for Woodcutting.
Useful Equipment
A full statue collection bag
You can talk to Barnabus Hurma (or any of the other archaeologists), within Varrock Museum, to receive a Statue collection bag. These bags will automatically store any statue pieces you gain from a skill activity, and can be filled with your library of rocks. When you have two corresponding statue pieces in your bag, simply empty the bag and use the rocks on the statue base. You may also 'Look-in' the bag to check how many you have currently collected. If you lose or drop the statue collection bag, you will also lose its contents. This means that you'll have to complete skill tasks to regain the rocks you lost.
Trivia
■ If you have a Pet Rock in your inventory, a message is displayed showing its excitement when you receive a strange rock. Message received with Pet Rock in inventory

■ Once you start this by getting the first rock, you can also get them on a non-members world.