Black Santa Hat
Members only item!


The black Santa hat is only available to member accounts from Festive Crackers that will be dropped in member world randomly, kind of like the 2002 Christmas event. The 2013 Christmas event is named UP TO SNOW GOOD - 2013 CHRISTMAS.
All Festive crackers will be removed from the game shortly after the 2013 Christmas event
! Join the festivities! Don your Christmas gear and complete challenges from the 20th to December until the 3rd of January for the chance of winning a new Black Santa hat!
When a Festive Cracker is rewarded to you from any random skilling activity around RunScape. A Chat Box message will say: congratulations! You've earned a Festive Cracker and be auto placed in your Backpack. The more Christmas gear you have on ... excluding Christmas  weapon slot gear. When you put a Christmas item on your body it turns into hybrid gear and it will say: Blessing of Winter effect increased.
The benefits of having a Festive Cracker
For the next 15 days, you'll have plenty of opportunity to collect festive crackers. When used on another player, these have two benefits:
The cracker grants both players 1000 Bonus XP in a randomly chosen skill.
Note that no confirmation will be requested from the second player, but - as this is Bonus XP - it won't result in any unwanted XP gain.
* The cracker will contain a gift for its owner. The treats on offer vary, but there's a chance that it'll be a black Santa hat - a brand-new tradeable rare that's sure to be at the top of everyone's Christmas list!
Pulling a festive cracker's always rewarding, and each one is a chance to get your hands on this valuable new headpiece. Have fun pulling as many as possible!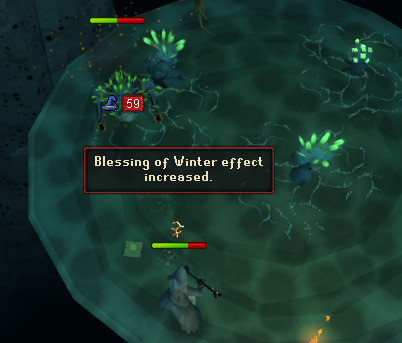 There are three ways to get hold of festive crackers over the 15 Days of Christmas:
* The first Daily Challenge you complete and hand in each day will earn you a cracker, alongside its usual rewards. If you're busy getting stuck into the Bird and the Beast world event, never fear! For the 15 Days of Christmas, we're giving every member an additional Daily Challenge alongside their usual five, which is to earn 10,000 renown by fighting for their faction. No need to miss out!
* Any combat or skilling activity that can earn you a spin ticket also has a chance to earn you a cracker. Your chances will increase if you're enjoying a Blessing of Winter buff - more on that below!
* There'll be many in-game events throughout the 15 days that can also award festive crackers. Twice each day (2am and 8pm GMT), there'll be a balloon drop at the Falador party room which gives out 200 of them. Our Community Team have plenty planned for the festive season too, and are giving out crackers to their competition winners. If you haven't already, check out the Community Christmas news post and the Community Round-Up forum thread for further details.
---
Festive Cryptic Clue Fest
From the 20th to 24th of December we are running a special Festive Cryptic Clue Fest.
On 12/16/2013 Jagex give us a little more information about the black Santa Hat, and also was giving us a old community favorite to get Festive Crackers.
The Black Santa is a new tradable rare hat. If your lucky enough to find one in a festive cracker which will be dropping around RuneScape this season.
Of course, with more crackers comes more chances to get a lucky drop, so Jagex give us a few more opportunities to get your hands on a Festive Crackers. That's why Jagex resurrected an old community favourite named Festive "Cryptic Clue Fest."
Please note that the crackers are members only. Whilst it is possible for a free user to take part in some of these clues, you will not be able to use the reward until you become a member. All crackers will be removed from the game shortly after Christmas.