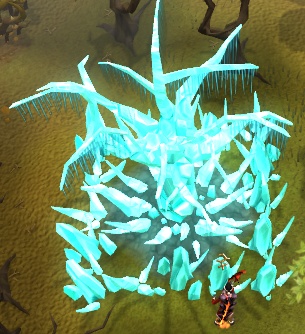 A Crystal tree is a high-levelled tree that members can cut for hefty amounts of Woodcutting experience. It requires a minimum level of 94 in Woodcutting to cut.
Only one crystal tree is active at one time, and will switch randomly. When they are active, the crystals at the base are much larger. If a tree is inactive, right-clicking to 'Look at' the tree will prompt a message that says "The tree leans slightly towards the direction of active tree". Crystal trees become inactive after 2 hours; they will then change location. The Crystal Tree's re-spawn time is the same on every world, though the active location differs.
When cutting, you may come across a Crystal geode that may contain several rewards like Crystal triskelions, Crystal seeds and valuable Gems. Using a Tree-shaking Scrimshaw or a Superior Tree-shaking Scrimshaw increases the chance of obtaining drops by 300% and 400% respectively. A Rabbit-foot necklace also increases the chances for obtaining drops.
Locations
On the world map, the locations of the Crystal trees form the shape of a diamond, the symbol of Seren, with the exception of the western point, which falls within the centre of Prifddinas. Prifddinas was formed almost entirely from Elven Crystal, a substance that can be shaped by Crystal Singing.
Right-clicking 'Look at Crystal tree' will prompt a message:
◾ Active tree: "This tree points to the heavens."
◾ Inactive tree: "The tree leans slightly towards the direction of active tree".
Location table
Location order is clockwise around the diamond starting from Prifddinas.
ignore this data \/
directions from the tree:
Falador: The tree leans slightly toward the south and west. (Castle wars)
Falador: The tree leans slightly toward the south and west. (Brimhaven)
Falador: The tree leans slightly toward the south and east. (Yanille)